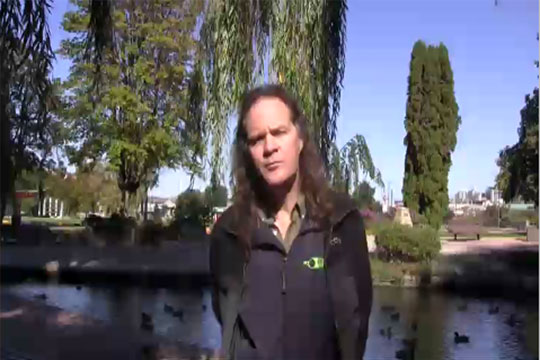 Transcription
How well are we aware of the urban wildlife that lives here within our city of Vernon, British Columbia? Now, as a citizen of Vernon, we're well aware that we are living in one of the most beautiful spots in the country. We have the nice sage brush around us; we have the pine, and semi-arid desert, and we're surrounded by beautiful lakes. We all know this. But too often we think of wildlife as something out there, something that we must leave the city to visit. We can take a short trip up Silver Star Mountain to see the wildlife, or maybe we could go down to Kalamalka Lake, which is right on the very edge of the city. On the edge of the city, (…) closer and closer. We could head up town to Brooks Nature Centre, just a few minutes from where I'm standing now. These are all outside, out there somewhere. Now this is strange, because if you ever flew over Vernon, you know that we have lots and lots of green space. Lots of nice areas in town. We have creeks running through the town. We have lots and lots of boulevards, trees, grass, and of course, Polson Park, which surrounds us right now. Every year, we hear plenty of negative things about wildlife. We hear about nuisance bears that have come into town. The odd person loses their pet to a predator, perhaps a coyote or a cougar that's wandered into town. The rattlesnakes whose biometrics (...). These rattlesnakes are always in the news. Every year, we also have a reminder to stay away and to watch out for those teeths. But aside from this negative awareness, we also have quite a positive image of Vernon. The whole city seems to wait for the coming of the herons, when they return to their rookery. It actually makes the front page of the local newspapers. We all eagerly await too. Seeing images of Polson Park (…) and children feeding the ducks, playing in the wilderness areas around here. In addition to this, what I call passive wilderness, we also have the (…) groups in town that are working hard to better educate us on the wildlife. Clarence Fulton Secondary has the Fulton Wetlands, and they're trying to preserve some of the wetlands just right behind their school. They also take tours of other schools through there. We have many schools and many groups too that participate in clean up at the creeks. They're not only trying to make the creeks more beautiful for us but they also try to return the lake to its natural state for the wildlife. We're always concerned about how the salmon are doing in the streams, so we hear that. If you take this all into account, I think we can safely say that Vernon is quite aware of urban wildlife.
Size: 11.86 mb
Time: 02:59
Download
CITY PARKS
As with any modern urban environment, Vernon has well-watered and tended city parks, conventional residential areas with lawns and cultivars of all sorts, and commercial property zones developed with low maintenance landscaping. One also finds the typical urban habitats of vacant lots and concrete jungles with the ever present re-population attempts of nature in the form of weeds, grubs, and industrious insects.

SEARCH ON FOR INVASIVE SQUIRRELS.
Size: 0.33 mb
Transcription
Search on for invasive squirrels

Okanagan residents are being asked to report sightings of the eastern grey squirrel, an invasive species.
magnificentfrigatebird photo
Published: March 16, 2012 1:00 AM

Morning Star Staff

The North Okanagan is being invaded. There is growing concern the eastern grey squirrel is gaining a presence in the Okanagan, displacing indigenous animals and posing a threat to crops and property. "The eastern grey squirrel is one of the most notorious alien species in the world and ranked by a branch of the World Conservation Union as one of the top one 100 invasive species on the planet," said Karl Larsen, a wildlife ecology and management professor at Thompson Rivers University in Kamloops. "This is a serious issue facing everyone."

Eastern grey squirrels are native to the eastern part of North America, and they were introduced to Vancouver's Stanley Park a century ago. In recent decades, their population has increased in the Lower Mainland and on Vancouver Island. Now, they have been found in the Interior and particularly Kelowna. "How they got here is unknown, but they're here," said Larsen. "The problem is that we probably won't fully appreciate the impact these animals will have on the local environment until it is too late to stop it."

Some people may question the impact of a new squirrel when there is already a species of squirrel native to the Okanagan. "Our native red squirrel doesn't do all that well in residential or agricultural landscapes, because it's really tailored to living in conifer forests. Also, they are incredibly territorial, so the density of these animals never gets very high," said Larsen. "However, grey squirrels are a different beast. They do well in human-dominated landscapes, and they tolerate one another much more so. If they get fully established, there will be a lot more squirrels living with us in our cities and rural areas. If given a chance, they will spread like wildfire."

In other regions, like England and Italy, where eastern grey squirrels have established populations, native species have been decimated, crops have been affected, nd buildings have been damaged by nesting. In California, they are known to damage fruit. A group of local wildlife professionals, including Larsen, have created an initiative to get a grasp on the situation in the Okanagan. Their goal is to raise awareness and to get the public involved in the first ever squirrel count. "It is essential that we find out how many animals are living in the Okanagan already if we stand a chance to deal with the potential problem," said Larsen.

"We ask that everyone visit the website, www.introsquirrel.ca, to learn how to identify these squirrels and tell them apart from our native red squirrels, and to report any eastern grey squirrels that they've seen." To report a grey squirrel sighting, go to www.introsquirrel.ca or call 1-855-468-7077.

Source: http://www.vernonmorningstar.com/news/142858725.html